Are you looking for the best rated felling axes under $100? You've come to the right place!
There are literally hundreds of axes in this price range – some a lot better than others! My job is to give you as much valuable information as possible so you can make the best decision on which felling axe is right for you.
If you're unsure of which felling axe is worth buying in this price range then keep reading. The reviews and comparisons in this article are all you need to make the best decision on your next QUALITY felling axe under $100.
My felling axe reviews below are the result of hundreds of hours of research and testing to provide everything you'll ever need to know about felling axes.
I hope you find this felling axe comparison and buyers guide useful in your search for the best felling axe for your own specific needs… and every felling axe on this list is under $100!
Before we get to the list, lets have a quick overview of what a good felling axe is…
What makes a good felling axe?
A good felling axe should be sharp, durable and capable of cutting into trees easily. Good quality steel is key for an efficient felling axe, as is the handle material. Hickory is widely used since it provides sufficient flex and shock absorption, but synthetic handles can be just as good.
That said, the single most important thing in a good quality felling axe is an axe head that maintains a sharp edge. You can spend hundreds of dollars on a top quality felling axe, but the one's listed here are perfectly capable of felling big trees – and all are under $100!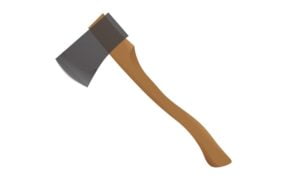 Felling Axe Reviews & Buyers Guides
Weight: 3.7 lb / Length: 28 in.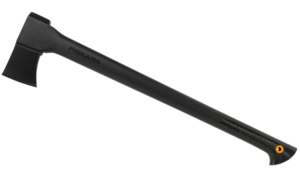 This Fiskars chopping axe is pretty light for a felling axe but boy does this thing chop wood!
Because of the lighter weight it allows you power it through with greater force and the chips come flying off. Fiskars claim a 30% deeper cut with each swing than a normal axe, and I tend to agree. It's amazing what this axe can do for being a budget felling axe.
The bit comes extremely sharp out of the box and retains its sharpness throughout some serious chopping. With a little honing with some fine grit sandpaper you could shave the hair off your arms!
The patented FiberComp handle is extremely durable and doesn't succumb to the elements like a wooden handle. It does feels quite comfortable for a while but the rigidity and smoothness can cause blisters if used for lengthy periods so gloves are probably a good idea.
It comes with a handy blade guard that clips on easily to keep the cutting edge – and the user – safe.
All-in-all the Fiskars Chopping axe is amazing value and performs better than expected if a bit on the short side for a full size felling axe.
Weight: 2.1 lb / Length: 26 in.
This medium sized felling axe from Husqvarna is a classic cutting tool in every sense. A hand-forged carbon steel head attached to an American hickory handle.
The fact that these are made in the same factory where Hults Bruk axes are produced is a very good testament to the quality of this axe. Swedish steel is highly desirable in the axe world, and to get hold of a Swedish made felling axe for under $100 is an absolute steal!
Granted, at 26 inches, it's 6 inches shorter than the ideal length for a full sized felling axe. But this is a handy size for those looking to chop smaller width trees. It's a true multi-purpose axe ideal for medium-sized tree felling, log limbing and branch trimming.
Weight: 3.3 lb / Length: 28 in.
Manufactured in Maine with quality US steel, the Snow & Nealley single bit axe is billed as a utility axe – a jack-of-all-trades so to speak. But this axe can fell trees of 12 inches in diameter with ease.
The blade holds an edge surprisingly well and the handle is shaped perfectly for an effective swing.
That said, the factory edge is not very sharp at all so you definitely need to spend some time sharpening before you put it to use. Also the lacquered handle is not to everyone's taste – it tends to cause blisters. So remove that and finish with some linseed or tung oil for a superior finish.
If you have the means to do that, you've got yourself a pretty great felling axe for under $100!
Weight: 3.5 lb / Length: 32 in.
This is a full-sized felling axe for under $100. Council Tool are made in the USA and have favorable reviews from the large majority of customers.
The Jersey pattern classic axe uses high quality steel which is a little rough and in need of some finishing but this is expected of felling axes in this price range. If you know how to tune up an axe, you've got yourself a bargain with this one.
Once sharpened, the edge holds up admirably, the handle grain is reasonably straight which is what you want in a handle, and the head is hung perfectly. 'Phantom bevels' are notched into the head to reduce sticking which is helpful, and the hickory handle arrives unfinished leaving you to choose your favorite oil or wax coating.
It certainly isn't a perfect felling axe, but with a little work it's a quality full-sized felling axe for under $100!
Weight: 5 lb / Length: 28 in.
This felling axe gets a solid 4.6 out of 5 stars on Amazon. The head is drop forged and tempered for maximum strength, and painted and lacquered to deter rust.
The straight hickory handle is not as ergonomic as a curved one. It doesn't feel as good when swinging, but it's certainly not a deal breaker.
It's a heavy axe for the length of handle so it may take a while to get used to. But it's a compact and powerful tool with a sharp, wide cutting edge that takes no prisoners!
The WoodlandPRO is a sturdy and reliable tool produced in the USA and sold for an extremely reasonable price for a quality felling axe.
Weight: 4 lb / Length: 36 in.
The advantage of a double bit axe is having one edge to chop trees and the other to do the dirty work – splitting and cutting tree roots.
The 10 inch American steel head is hydraulically seated to the straight hickory handle which comes rough and unfinished. It's ideal for those looking to apply some oil for the best finish.
Like most axes this one does not come sharp but a little honing with a puck will ready your cutting edge for chopping trees. The other blade can be left dull for splitting.
For around $60 the Council Tool double bit Michigan axe is a great buy if you're willing to spend the time on the cutting edges and handle finish. A double bit is not to everyone's taste, but these axes provide perfect balance due to their symmetrical design.
Give this one a try… you may never go back to single bit axes again!
---
Additional Information on the Top Rated Felling Axes – Q&A
If you've read through the felling axe reviews above and still need more information on how to make the best decision, the following Q&A section should answer all of your questions.
Is a chopping axe the same as a felling axe?
Chopping axes are used for cutting across the grain of the wood – exactly the same as a felling axe. I have seen articles describing chopping axes as splitting axes, this is not true. A chopping axe is the same thing as a felling axe – it has a a thin, sharp blade that cuts into the grain of the wood rather than splitting ALONG the grain. Chopping axe, felling axe – same thing.
Can you use a felling axe to split wood?
A felling axe blade is thin and sharp compared to the wedge-shaped head on a splitting axe. To split wood you need this wedge profile to split the wood apart along the grain – the shape and weight of a splitting axe is specifically designed for this task.
The design of a felling axe makes it perfectly suited to cut deep into a tree with each swing in order to bring it down quickly. This requires a relatively thin, sharp blade which is no good for splitting big logs.
It CAN be used quite effectively to split off small pieces around the edge of a log for example, but you would find it much easier using a small hatchet for this task.
Using a thin blade to split wood will always result in the blade getting stuck in the log – that's why splitting axes were invented!
How long is a felling axe?
The length of a felling axe can vary from 28 to 36 inches, and the best length comes down to personal preference. But generally the ideal length for a felling axe in somewhere around 30 inches.
This length provides a good trade-off between power generation and ease of use. A 36 inch felling axe can be difficult to wield unless you're a lumberjack!
What's the difference between a Felling axe and a Splitting axe?
There are 2 main differences between a felling axe and a splitting axe. Firstly, the splitting axe has a heavy, wedge shaped head with a relatively dull blade compared to a felling axe. A felling axe is thin and sharp to cut through the wood fibers rather than splitting it apart along the grain.
Secondly, the handle length of a splitting axe is generally longer which allows more force to be generated during the swing. It also ensures the blade doesn't end up swinging towards your legs after you split the log!
---
Things to consider before choosing a felling axe
Tree size
The size and type of tree you plan to chop down will be the key factor in your choice of felling axe. Clearly, the bigger the tree, the more resilience your axe will need to ensure the blade maintains its sharpness throughout.
Although you CAN chop down some pretty big trees with a good felling axe, a chainsaw is the preferred choice for anything bigger than 10 inches – it's just so much quicker and easier… and less of a workout!
Axe type
There are hundreds of axes available for felling trees. These range from cheap, mass produced ones all the way to the finest hand-forged heirloom pieces from the like of Gransfors Bruk.
Do you prefer a natural wooden handle or a modern synthetic one? If you don't want the hassle of oiling your wooden handle maybe a plastic one would be better for you.
Handle Material
Felling axe handles are made of one of two materials: hardwood, such as hickory or ash, or a composite material such as plastic or fiberglass.
Traditional wooden axe handles are the most popular – they are the classic axe handle material that has been used for centuries; lightweight, comfortable and naturally shock absorbent.
The downside is that wood is sensitive to the environment. It can swell and shrink depending on temperature and humidity, and will also soak up water and other elements that will eventually destroy your handle if it is not sufficiently protected.
It's also the axe handle most susceptible to overstriking. If you miss a swing and the force of the blow hits the handle, you can end up snapping your axe – no matter how much you paid for it!
But wood handles are also the easiest to replace, and they also can be easily modified to suit your needs by adjusting the size, shape and finishing (oils, waxes or lacquers).
The highest-quality axes available today are all made with wooden handles.
Composite handles are a mix of fiberglass reinforced plastic that will last forever. Some of the composite handles in modern felling axes are almost indestructible and provide excellent grip, but lack the feel of a natural wood handle.
The disadvantage of a composite handle is they are not replaceable. If you mangle your handle, you'll have to replace your axe.
Handle Length
The length of the handle is an important factor when choosing a felling axe. The longer the axe handle, the more power you can generate, but it also requires a bit more experience to wield a big axe. Not everyone can swing a full-sized felling axe!
If you're new to using a felling axe for chopping down trees, the best axe length is around 28 to 30 inches long. This provides a good balance of power and control. As you gain experience you may want to upgrade to a longer handle.
Overall Weight
Felling axes are equipped with heads that weigh anywhere between 2 and 5 pounds. For most people, the best axe for felling trees will weigh approximately 4 pounds as these are far easier to handle and will do nicely for most average tree felling jobs.
Many people make the mistake of buying the biggest felling axe they can find, thinking that bigger is better. Sure, if you're strong enough to swing a 5 pound axe for hours on end, more power to you. But an axe you can control and feel comfortable with is a far better choice.
Budget
One thing I've learned over the years is that more expensive doesn't always mean best. I've had axes that cost hundreds of dollars fail on me, and I've been surprised how effective a cheap axe can be.
Each of the felling axes listed in this article is under $100 which is a great price for a good quality felling axe.
---
Which of the Best Rated Felling Axes Should You Choose?
There are so many options out there for a felling axe it can be difficult to decide which one is best suited to you and your specific requirements. To go back to basics, there are really only two types of felling axes; classic wooden handled or modern synthetic handled.
If you're having trouble picking the best felling axe, don't worry.
Below are some pros and cons about each type of felling axe to help you narrow down your options.
Comparison of the Top Rated felling Axe Types
Wooden handled felling axe features
Great natural feel
Absorbs shock
Easily replaced
Easily modified (length/finish/shape)
Inexpensive
Susceptible to the elements
Requires maintenance & care
Composite handled felling axe features
Impervious to the elements
No maintenance required
Lightweight
Indestructible
Not replaceable
Lacks feel of wood
Expensive
Conclusion
The best type of axe for felling trees is one that is comfortable to use, is weighted perfectly for the user and can maintain its sharpness. You don't have to spend hundreds of dollars on a quality felling axe. I hope this guide has given you some options for a good felling axe under $100.
For most users, chopping down a tree or two is an occasional requirement (if it's a daily task, you probably should invest in a good quality chainsaw). But one of the axes listed above is perfect for occasional tree-felling.