There are literally thousands of folding saws available today and probably hundreds of blogs telling you which one is 'best'. I've used folding saws for years and they are hands down one of the most useful tools for the outdoors.
Yes, I love axes and hatchets, and it slightly pains me to say that a Silky saw IS a quicker way of cutting limbs and branches.
Nowadays I have fully converted to using only Silky saws because in my experience they are just so much better than any other folding saw. Silky saws make the smoothest cut I've ever seen in a folding saw. They literally do not leave ANY saw marks – it's amazing.
In this article we're taking a look at my top Silky folding saws that are an absolute necessity for camping, bushcraft or backpacking… or any situation where you need to cut some wood!
What is a folding saw used for?
Folding saws are a super-handy device for sawing through almost any type of wood and are perhaps most utilised in the camping, bushcraft or simple gardening niche for pruning and sawing branches of all sizes, and even to saw through pretty substantial logs.
They have become hugely popular due to their compact size and amazing ability to cut through logs and branches fast! Out in the back of beyond you'll be lost without one of these highly versatile saws.
A Silky folding saw is my go-to device for firewood prep, shelter building and all-round bushcraft tool.
Where are Silky saws made?
All Silky saws are made in Japan with a high carbon steel finished to an extremely high standard. The Japanese are widely known to produce some of the finest bladed tools in the world… Those Samurai warriors had some pretty sharp blades they used to use a while back…
How do you use a silky saw?
Silky saws are easy to use but a few things should be observed before use. All Silky saws cut on the pull rather than the push like most conventional saws. This means that the teeth bite into the wood as you pull the saw towards you rather than away from you.
Another important detail is the thickness (or thin-ness) of the blades – they are very thin. This allows an incredibly smooth glide as you cut through the wood which is great, but care is needed to ensure you don't push down to try and drive the saw into the wood as you cut – there is no need and the blade can snap if you do this too vigorously… Let the saw do the work.
Other than that, a simple sawing action is all that's required.
What is the best silky saw?
Silky produce a vast range of saws for many different purposes from the tiny Pocketboy with a 5inch blade, all the way up to their largest Katanaboy with a 25.5inch blade. There are over a hundred different Silky saws so telling you which one is 'best' doesn't make sense – All Silky saws are the best!
As with any tool, the best silky folding saw is the one that is best suited to the task at hand – there's no point buying a Katanaboy for pruning small fibrous branches, or a Pocketboy for cutting big heavy logs. But perhaps more important is the tooth size on your saw…
Tooth Size
An important consideration when choosing the best silky folding saw is the tooth size. There are five sizes of teeth on a Silky saw:
Extra Fine – Precision cutting (florist & nursery/woodworking)
Fine – For fibrous wood and bone (Palm fronds/Bamboo/small green branches)
Medium – General purpose (soft or hard wood/Small to medium sized branches)
Large – Capable of heavier work (larger log processing/Larger green wood and hard wood)
XL – Serious log cutting (When a chainsaw isn't available, you need this!)
It's so important to choose the correct tooth size for your own specific needs. Most Silky saws can be purchased with a specific tooth size so take this into account before you buy.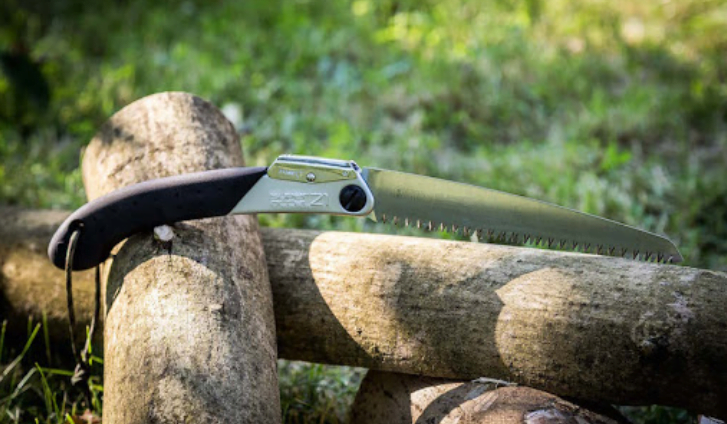 Lets have a look at some situations where we can define the best saw for that specific purpose.
Best Silky saw for pruning
Pruning and cutting of fibrous green wood is best achieved with a shorter blade with fine teeth.
Recommended saw: Silky F180
Best Silky saws for camping
Coupled with a good quality hatchet, a saw for camping needs to be of medium length to cope with small but potentially bigger wood for harvesting materials for firewood. Also to build tripods for cooking. A medium tooth configuration would be ideal in this setting.
Recommended saw: Silky Gomboy 240 (Medium)
Best Silky saw for bushcraft
Bushcraft involves a wide variety of activities from harvesting wood, shelter building, clearing brush and making wooden tools. The mix of tasks probably requires a couple of saws for all-round capability. An XL tooth, long blade coupled with a fine tooth, short blade.
Recommended saw: Silky Bigboy 2000 (XL) & Silky Pocketboy (Fine)
Best Silky saw for backpacking
You'll want to keep everything in your pack as light as possible for backpacking but a silky folding saw is not going to be weighing you down no matter which one you choose to carry. That said, you probably don't need anything bigger than a pocket-sized folding saw for backpacking – It's more of a 'just in case' tool in this situation. Medium teeth would be the best option here.
Recommended saw: Silky Pocketboy (Medium)
Best Silky saws for survival
Much like bushcraft, there are a huge variety of tasks that a compact saw can perform in a survival situation. The goal is to be able to survive off-grid for an indefinite amount of time – so you'd better be prepared!
One saw is not going to cut it (pun intended – sorry) so you need to be sure you have ample means to deal with anything that arises in the wild – shelter building, fire making, hunting, trap building, fishing…
The best silky folding saw needs to suit all situations:
Recommended saw: Silky Pocketboy (Fine), Silky Gomboy 240 (Medium) & Silky Bigboy 2000 (XL)
Best Silky saws for firewood
Aside from kindling which your hatchet should make short work of, the best silky folding saw should ideally be XL-toothed with a long blade to cope with all types of medium to large logs and branches. A curved blade will make this even easier.
Recommended saw: Silky Bigboy 2000 (XL)
Best Silky saws for hunting
Aside from a good hunting knife for skinning your kill, you'll need a compact saw for cutting bone. The best silky folding saw in this situation is a fine tooth Silky to make short work of any bone.
Recommended saw: Silky Pocketboy (Fine)
Best all-purpose Silky saw
The best silky folding saw for the widest range of tasks is the Silky Bigboy with medium teeth. With a blade length of 360mm it's a pretty standard full sized blade that can easily deal with the small stuff but also able to saw through 12inch logs with surprising ease.
The key factor in the smoothness of the cut is the design of the blade. The steel of the teeth is thicker than the top of the blade which completely removes the possibility of the saw being pinched as you cut. Fantastic.
Now, I wouldn't class this as pocket-sized. Its pretty big, it's over 14 inches long when closed so once the blade is opened and clicked into place it's over two feet long in total length, so if you're looking for something smaller you should perhaps go for the Gomboy or even the F180. Again it depends on your specific requirements.
Recommended saw: Silky Bigboy 360 (Medium)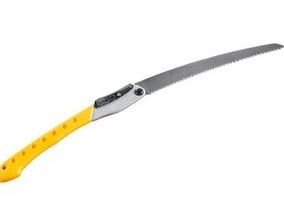 How long do Silky saws last?
Obviously this greatly depends on how much you use the saw and what you are cutting. The upside is the Japanese steel used to make the blades has been heat tempered to stay sharper for longer, so you can expect your Silky saw to out perform other saws in this regard.
Speaking from personal experience, my Silky Gomboy 240 is still going strong after 8 months of pretty regular use so I can vouch for their ability to remain sharp over time. For what it's worth.
Can Silky saws be sharpened?
Yes… and no. Some silky folding saws have been 'impulse hardened' using laser technology to harden the teeth of the saw without damaging the molecular structure of the base metal. This provides an excellent finish to prolong wear and tear during use. These were not designed to be sharpened.
Other Silky saws are classed as sharpen-able and have not been impulse hardened. These will not last as long but can be sharpened if this is the users preferred option.
There are two schools of thought on sharpening of saw blades, some like to sharpen rather than replace the blade – if this is you, go with the sharpen-able option. If you would rather simply replace the blade once it eventually becomes dull and worn, then the 'impact hardened' saw would be the best choice.
Take a look at the video from ArborSupply for a quick overview of impulse hardened vs sharpen-able Silky saws:
How do you sharpen a silky saw?
My preferred method is a simple flat file. The flat edges will ensure there is no damage to adjacent teeth when you are filing.
Simply secure your sharpen-able Silky blade in a vise with teeth pointing up, and apply a few strokes of the file to each tooth all the way to the end of the blade on one side.
Repeat this on the other side and you're good to go. Of course, depending on how dull your blade is, you may need a few more strokes per tooth.
Check out the video below from ArborSupply for a simple demonstration on sharpening a Silky blade:
Top 5 Best Silky folding saws – Small to large
Silky saws have proven to be the best bang for your buck when it comes to folding saws. I've included 5 Silky folding saws that are all super efficient and worth every penny.
(The links below will take you to Amazon if you want to check full specifications or purchase one of these fantastic Silky folding saws)
At 7 inches the F180 is the shortest blade of the lot and comes in really handy for around the garden or for small landscaping tasks where space is an issue. The large teeth make it a competent log or branch saw that performs well above its weight.
Check out full details and current price of the Silky F180
A great workhorse in any environment and the 8-1/2-inch blade with medium teeth is specifically designed for cutting green or dry wood quickly.
Check out full details and current price of the Silky Gomboy 210
The bigger brother of the Gomboy 210 has a 9 1/2-inch blade to tackle larger logs and branches. If that extra inch is what you need, look no further than the Gomboy 240 – One of the most popular Silky saws ever!
Check out full details and current price of the Silky Gomboy 240
At over two feet in length with the blade locked into place, the Silky Bigboy is a general purpose saw that can perform a multitude of tasks from trimming tree branches, cutting medium sized logs and prepping firewood for camp. As an all-round workhorse, this is your blade!
Check out full details and current price of the Silky Bigboy 360
For the big stuff. Seriously, if you don't have a chainsaw to hand just give the Bigboy 2000 a try – you'll be amazed. This is truly the finest folding saw on the planet – Sharp as hell, fast, efficient and the curved blade cuts through wood like butter… Probably not the best for small pruning jobs though.
Check out full details and current price of the Silky Bigboy 2000
Video review of these 5 Silky saws in action!
Much as I enjoy talking about the effectiveness of Silky saws for cutting wood, there's nothing quite like a real demonstration of what they can do.
Take a look at this video review by reviewoutdoorgear for proof of awesomeness!
How do you clean a silky saw?
After using your Silky saw, a stiff bristled brush is all you need to remove any wood bits or dust lodged between the teeth. Next use a microfiber cloth with some alcohol, mineral spirits, or citrisol to remove any sticky stuff.
Once the blade is clean, finish off with some lanolin spray to lubricate and help prevent rust. Done.
Conclusion
Well, like millions of others I love Silky saws. The quality and efficiency of these amazing folding saws is just astounding. There really is a Silky saw for any purpose just be aware that the tooth configuration is SO important before you buy – I'd say 90% of the bad reviews out there are from people who aren't aware of this and are simply using the wrong blade for the job they're doing.
Anyway, I hope this short article has been of some use to you.
Please comment below with any suggestions you may have on how to improve this article or ask me anything you like – I'd be happy to help!