A lumberjack axe – also known as a competition axe or Racing axe – is a custom-made axe for chopping fresh, knot-free white pine during Timbersports events. Most are manufactured in Australia or New Zealand by Brute Forge or Tuatahi and cost around $500.
Before we take a look at some of the axes used in Timbersports – and where to buy one – lets cover some basics first.
The Stihl Timbersports series is an annual competition for woodsmen from all over the world where they use an array of lumberjack tools to compete in 6 different disciplines.

Take a look at the trailer for the Timbersports world championships 2021 – think your axe skills are up to this standard?

There are 3 chopping disciplines in the series and each competitor can bring 6 to 10 different axes to use during the event. These are not your run-of-the-mill hardware store axes, they are purpose-built for the competition and fine-tuned to cut a specific type of wood used in the series and are known as racing axes.
What is a racing axe?
A racing axe is a custom-made axe for chopping fresh, knot-free white pine during Timbersports events.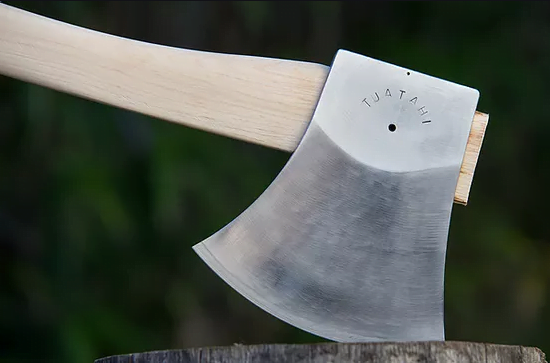 They comprise of a specially made steel head which is hand sharpened to a razor-sharp edge and a 31inch long hickory handle. These axes are not suitable for garden or forestry use because the wood used in the competition is softer than what you would encounter in the real world.
What type of wood is used in Timbersports?
White pine is used in most events due to its relatively predictable knot spacing. The logs are harvested from the same tree in the same plantation to ensure a level playing field.

Each one is trimmed to remove the bark and extra wood to make the required diameter log for each discipline.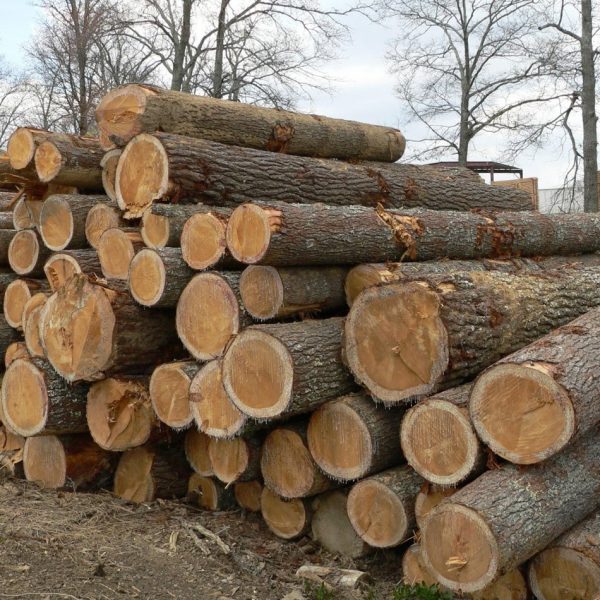 Stihl Timbersports disciplines
There are 6 disciplines in the Stihl Timbersports world championships. These are not just axe events, a wide range of lumberjack tools are employed throughout the competition. Each event requires a specific woodsman's tool as described below:
In this event, the competitor uses a customized chainsaw with a modified engine. This can be taken from a personal watercraft or snowmobile for example.
The competitor makes a single cut through 19 inches of white pine using a cross-cut saw. A helper wedge is allowed to prevent the saw teeth from sticking.
To mimic the felling of a tree, the competitor races to chop through 12 to 14 inches of vertical white pine.
This is a chainsaw event using the MS 661 STIHL chainsaw. The heat begins with both hands on the log and the chainsaw idling on the deck. The competitor has to make two cuts in a 16-inch piece of lathe-turned white pine as fast as possible.
The competitor stands on top of a horizontally supported log. At the signal, the competitor has to chop through a 12- to 14-inch white pine log with his racing axe. The axeman chops halfway through the front side and turns to the back to fully sever the log.
A racing axe is used to chop pockets into a 9-foot poplar pole. 6-inch wide springboard platforms are placed into into the pockets in order to reach the top.
Stihl Timbersports prize money
This whole thing started with two guys in Tasmania making a $50 bet on who could clear land the quickest with an axe. Now with woodcutting competitions popular in the US and across the globe, competitors can compete for big money.
But there's a pretty hefty startup cost to be able to compete in these prestigious events.

Mitch Argent, 23, from the town of Blackbutt, north-west of Brisbane, is one of woodchopping's brightest talents and has already claimed the Timbersports Australian Championship back in 2018. But winning the competition requires more than skill.

To be eligible to compete, you need to have the equipment. Mitch's gear is worth close to $100,000 involving cross-cut saws, hot saws and axes, and all the safety gear required. But reaching the top of the woodchopping ranks will make the investment worthwhile.

The potential for earning six figures a year in this sport is a reality.
"If you had a lot of wins and picked up a few sponsors you could definitely clear $100,000 in 12 months"
Where can I get a racing axe?
Tuatahi is the predominant supplier of racing axes for Timbersports competitions – anyone can purchase one of their specially made racing axes. But to be honest, at around $500 it's pretty expensive and not ideal for day to day use… but it's a beautiful thing!

You can't get these axes from Amazon so you need to head to the Tuatahi website for more information on shipping to the US.

The good news is the mighty Ochsenkopf Champion Axe can be purchased by clicking on the link below, and a couple of other professional axes may be worth considering if you're looking for a quality axe that can perform to the highest level outside of the competition arena…
Weight: 6.67 lbs Length: 32 in.
The Champion axe by Ochsenkopf is a favorite of many lumberjacks that have tried their hand in the competition. This beautiful racing axe has been given a special training cut that is suitable exclusively for softwoods such as white pine and poplar.

The shape of the high-quality hickory handle provides maximum comfort throughout use and ensures the optimal grip for prolonged chopping. The triple wedge provides the secure connection between handle and head, and can cope with any level of competition.

At nearly 7 lbs in weight this is no show-axe. It's wicked-sharp and one of the finest competition axes around!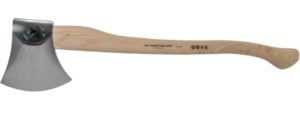 The best of the rest…
Swedish master forgers Gransfors Bruk or the German craftsmen at Helko Werks are two manufacturers who's axes are closest to the quality of professional racing axes – quality axes that will last a lifetime.
Here are my recommendations for a professional woodcutting axe if the Ochsenkopf Champion Axe is a little too pricey:
Weight: 6 lbs Length: 31 in.
The Helko Werk Tasmania Competition Axe is a modern rendition of the Tasmanian racing axe. It's a dependable option for racing pros and novices entering the world of timber sports. This is a world-class wood chopping axe.

Outside of the competition arena the Tasmania is commonly used as a felling axe on both softwoods and hardwoods. The 31inch handle and 4lb head allow for quick swings while delivering powerful cuts.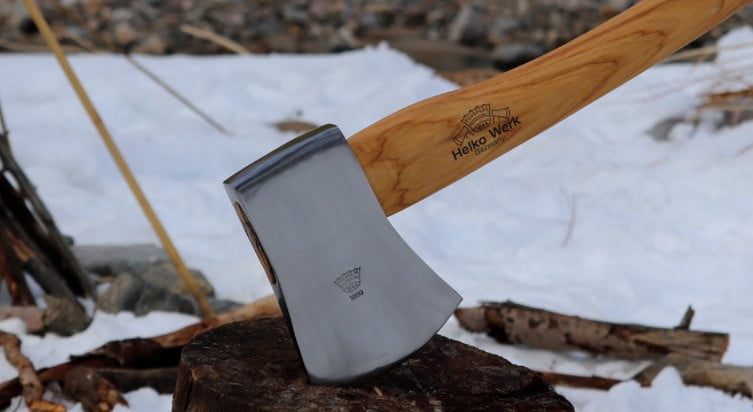 Weight: 5.3 lbs Length: 31 in.
The Gränsfors Bruks American Felling Axe is a professional axe ideal for felling very large trees. This 31inch version is forged to a curved bit making it suitable for cutting into fresh, resinous wood such as spruce or pine.

The 3.3lb head and long handle are ergonomically designed to ensure minimal vibration and optimum precision during every swing.

A Gränsfors Bruk axe is always a good investment. Hand-forged by master craftsmen in Sweden, these are some of the finest axes available today.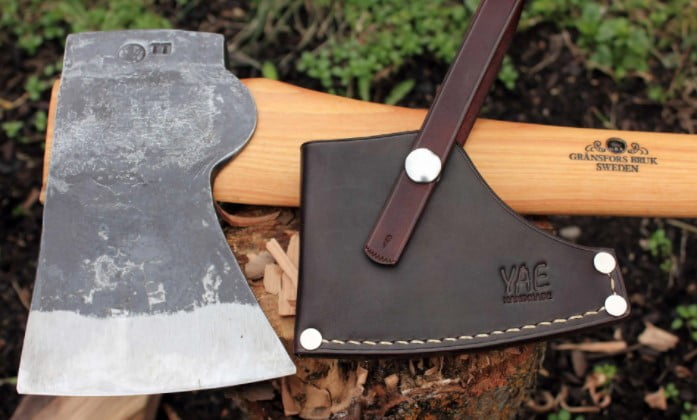 Conclusion
The axes used in Timbersports are not necessarily the best axes for everyday chopping, especially when you're chopping hardwood. These axes are specially designed and hand-made to a very high standard, but they are designed to chop softwood such as white pine or poplar for example.

For a truly effective axe for the real world, check out my article on the Best Axe For Cutting Down Trees or head to the buyers guides section for the Best Rated axes!
Feel free to leave a comment below, thanks.